Lesson 11-1
Our world



Countries
Some countries you can find on a map: Germany, Austria, Poland, The Slovak Republic (Slovakia), The Czech Republic, Canada, The United States of America (The States, USA), The United Kingdom of Great Britain and Northern Ireland (Britain, UK), France, Italy, Croatia, Greece

Continents
Earth's continents: Asia, Africa, North America, South America, Antarctica, Europe, Australia

Earth's oceans:
Arctic, Atlantic, Indian, Pacific, Southern

Earth's seas:
Mediterranean, Baltic, Arabian

Do you know where these countries, continents, oceans and seas are?
Can you find them on our map? If not, take your school map and look into it.
Can you translate them in your native language? If not, look into a dictionary.


Nationality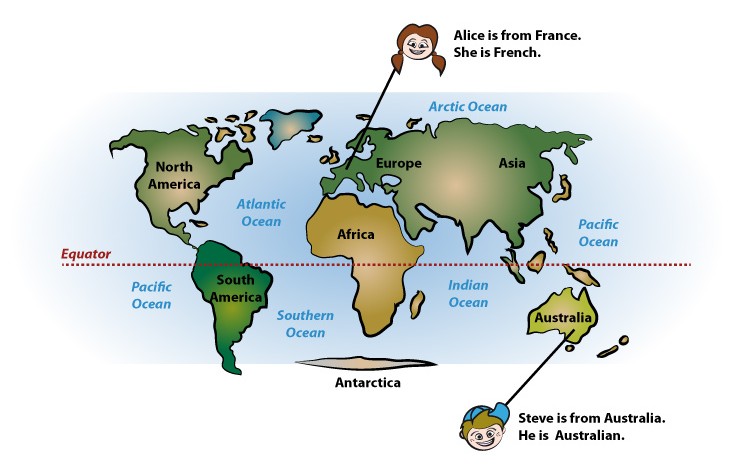 Country
Language / Adjective
People
One person is a
Australia
Australian
Australians
Australian
Austria
Austrian
Austrians
Austrian
Canada
Canadian
Canadians
Canadian
Croatia
Croatian
Croats
Croat
Denmark
Danish
Danes
Dane
Finland
Finnish
Finns
Fin
France
French
French
French
Germany
German
Germans
German
Greece
Greek
Greeks
Greek
Holland
Dutch
Dutch
Dutch
Hungary
Hungarian
Hungarians
Hungarian
Ireland
Irish
Irish
Irish
Italy
Italian
Italians
Italian
Poland
Polish
Poles
Pole
Russia
Russian
Russians
Russian
Scotland
Scottish
Scots
Scot
Spain
Spanish
Spaniards
Spaniard
Sweden
Swedish
Swedes
Swede
The Czech Republic
Czech
Czechs
Czech
The Slovak Republic
Slovakia
Slovak
Slovaks
Slovak
The United Kingdom
Britain
British
Brits
Brit
The United States
America
American
Americans
American

Where are you from?
Have you got friends from another country?
How are they called?


Continue lesson